JUNE 30, 2014 — DOWNERS GROVE, ILL. — "Mr. Daniel Reck, MSEd has accepted the position of Associate Registrar" at Midwestern University according to a university memo issued today. Reck joins the team that manages academic data for the 2,800-student campus in Downers Grove, Ill.
"I'm thrilled to be joining the academic family at Midwestern," says Reck, whose background in higher education includes administrative positions in student affairs, information services, and communications will support his new responsibilities. He also brings with him experience as Managing Editor of the Jamboree Today news service for the Boy Scouts of America.
Founded in 1900 as the Chicago College of Osteopathic Medicine, Midwestern is a non-profit university that educates graduate students in medical sciences. The campuses in Illinois and Arizona offer programs including osteopathic medicine, pharmacy, physician assistant studies, physical therapy, occupational therapy, clinical psychology, speech-language pathology, dental medicine, veterinary medicine, and other related fields.
"There is an immense amount of data we're responsible for acurately tracking, storing, and analyzing," says Reck. "I am looking forward to the challenge."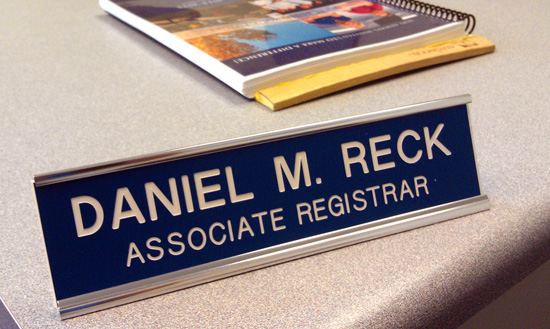 "Reck received his MSEd degree from Northwestern University," says the Midwestern statement, which also noted his ongoing work as Director of Digital Media for University Bands at Northwestern University in Evanston, Ill.
Previously, Reck was Assistant Director of Greek Life, Leadership, and Involvement at Monmouth College in Illinois and will continue his affiliation with the Northwestern University band program.
"On a personal note, Mr. Reck enjoys music, scouting, and photography," the Midwestern statement concluded.